Meet the Team
Banagher totalhealth Pharmacy, Banagher, Co. Offaly
Joan: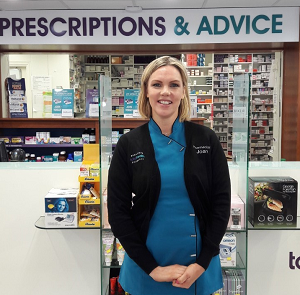 Joan qualified from Trinity College in 2001 and opened the pharmacy in August 2005. She has 3 children and enjoys swimming and walking her dog. Joan is a fully qualified First Responder, trained in CPR and Advanced First Aid.
Sarah: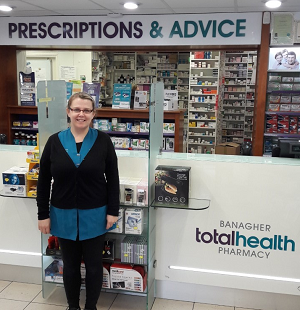 Sarah has been working here with us since Spring 2009. She is a qualified Healthcare Assistant and has a great level of experience in all areas in the pharmacy. She enjoys keeping fit and spending time with her young son Benjamin.
Phyllis: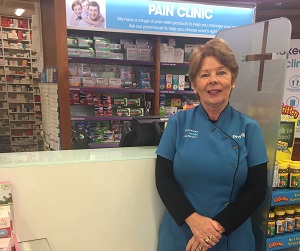 Phyllis brings a wealth of experience to our pharmacy having a long history in the world of community pharmacy. She enjoys travelling and has a wide range of interests. She is currently President of the Banagher Bridge Club.
Emma: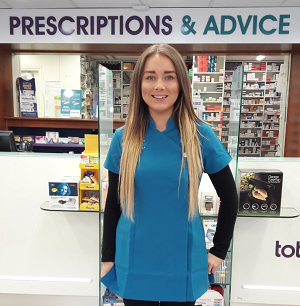 Emma has been working with us since 2015. She is a qualified Healthcare Assistant and has experience and knowledge in all areas of the pharmacy. She has a Honours degree in Humanities, is trained in CPR and First Aid and is a qualified First Responder. She enjoys keeping fit and playing music on the fiddle.
Tomás: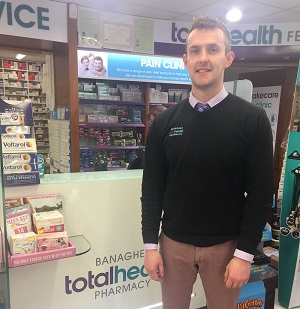 A native of Mayo, Tomas joined us as a Pharmacist in February 2017. He has a keen interest in all things GAA, in particular following the fortunes of his native county every summer in their quest for Sam!